Morocco Fast Track
Airport Meet and Assist
VIP Assistance at Casablanca , Marrakesh airport ...
CHECK PRICE
BOOK NOW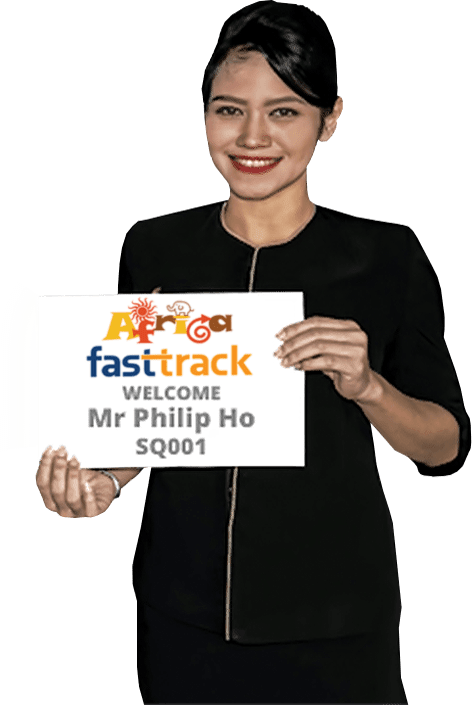 Meet and Assist services at airports in Morocco. For any traveler, on any airline, in any cabin class.
Casablanca and Marrakesh airports are busy airports in North Africa.  Booking a Meet and Assist Service in a Morocco Airport will make passing through it fast and easy. Morocco Fast Track's local greeters will ensure a quick arrival, a smooth departure, or a successful connection.
Africa Fast Track's service in Morocco adds a first class feel, usually reserved for VIPs. The service may include regular or special immigration handling, an electric buggy kart, help with VOA and baggage.  Before you book, we will help you book the exact service that you need.
Airport Meet and Greet service in Morocco CNN, RAK and RBA
On arrival Morroco Fast Track's English speaking greeters will meet you near the air bridge. They will assist you through any passport or visa control, and escort you to the baggage and customs area. They will help find your driver, or if you booked a connection, check in to your next flight.
On departure, they will contact your driver, will assist you through check-in and immigration, and will take you to your airline lounge or the boarding gate.
For connections, the greeter will meet you near the air bridge and will guide and escort you through the arrival, departure and transfer processes needed for your connection, right through to your airline lounge or the gate.
For more than 10 years our Airport Assistance and Booking Team has assisted thousands of travellers pass smoothly through busy airports. Before you book, Fast Track's tools and expert staff will help you understand and choose the exact service you need at the lowest possible cost.
Fast Track services are available to any traveler, on any airline, and in any cabin class, and in all major airports around Asia, the Middle East & Africa.
The Kingdom of Morocco has three main international airports: Casablanca International Airport (IATA Code CMN), Marrakesh Menara Airport (IATA Code RAK) and Rabat-Sale Airport (IATA Code RBA). We offer efficient Fast Track Immigration and Meet and Assist Services to smooth the way at all three airports.
CMN Casablanca Mohammed V Airport, is 30km (18 miles) south of Casablanca in the Nouaceur/Nouasseur Province. It was named after the late Sultan of Morocco (1927-53 & 1955-57) who became King from 1957-61. Casablanca is the busiest Moroccan Airport and the fourth busiest in Africa by passenger numbers, serving 8 million passengers each year. It has two terminals and accommodates over 30 airlines flying to approximately 100 destinations worldwide. Managed by ONDA (Office National des Aéroports) which has its HQ in the airport, it is a hub for Royal Air Maroc, Jetairfly, Air Arabia Maroc and RAM Express. The original airport was built in 1943 by the USA as a military stopover and handed over to Morocco after independence in 1956.  
RAK Marrakesh Menara Airport is situated 6km (4 miles) south of the city, adjacent to the N-8 to Essaouira. The airport has banking and currency exchange services, duty-free shop, restaurants and snack bars. It has two terminals sharing one building and a third terminal which is currently closed. Managed by ONDA it handles over 4 million passengers annually.
RBA Rabat-Salé Airport is 8km (5 miles) northeast of Morocco's capital city and is jointly used as a public and military airport. It was used as a base for the USAF during WW2 and the Cold War before being handed over to Morocco in 1957. A new terminal opened in 2012 to replace the old one and now serves 923,000 passengers a year; well below its capacity of 3.5 million. It has one runway and 10 stands. Modest airport services include car hire, banks for tax-free reimbursements, duty free shopping and a café/bar. The airport is close to the N6 for those heading to Meknes and Fez.